Sargent World Sport Performance Plus Seat | Gear Review
It was 1991 the last time I bought a motorcycle and settled for the OEM seat. When I sprang for a new BMW F 750 GS, it didn't take many miles for my backside to request a seat upgrade. Now Sargent Cycle Products offers its range of World Sport Performance Plus seats for BMW's latest range of mid-size adventure bikes (F 750 / 850 GS and GS Adventure). 
The heart of these seats is Super Cell Atomic Foam, Sargent's proprietary blend of resilience, firmness and vibration-absorption qualities. The seat foam is wider than stock and contoured to enhance lateral support and distribute pressure evenly. A central relief channel (where seat foam is strategically absent) takes pressure off your crotch and tailbone. 
Sargent has added another comfort innovation. Inside the Super Cell foam, a quarter inch below the surface, resides a layer of memory foam that absorbs pressure points while retaining the Super Cell foam's suspension qualities. Talking with Mark Todd, Sargent's President and R&D chief, I learned that memory foam, while wondrous stuff, is notorious for wear if it's allowed to make direct contact. Sargent's clever design prevents such wear. 
Embedding memory foam also allows Sargent to include a flexible heating element for riders who want the option of bun warming on demand. (BMW does not offer a factory heated seat option for its mid-size adventure bikes.) Sargent's system uses conformable film and fine wire spiral wound glass core technology to create the heating element, which is adhered to the memory foam layer before it's floated in the Super Cell foam. You can opt for rider heat only or dual zones for rider and passenger. Each heated zone draws approximately 1.7 amps (23 watts @ 13.5 volts), and rider and passenger each get a 10-step controller to set their desired toast factor independently. The controller is good looking, simple to mount, waterproof, and easily programmable for brightness and preferred direction of the heat level bar graph. 
Sargent offers choices for marine-grade upholstery including CarbonFX or DTX, with or without grip zones on the front sides. (As their name suggests, grip zones are special panels that help your inner legs grip the seat…useful when riding in a standing position.) Each seat is hand-sewn, and Sargent offers lots of color options for stitching or welt to complement your bike's livery. 
Underneath is Sargent's seat pan, which is injection molded from tough, lightweight PolyTec. Sargent now includes a compact, rechargeable, zoom-adjustable LED flashlight that stores neatly in a molded hollow in the seat pan. A USB cable for charging the flashlight is included, too.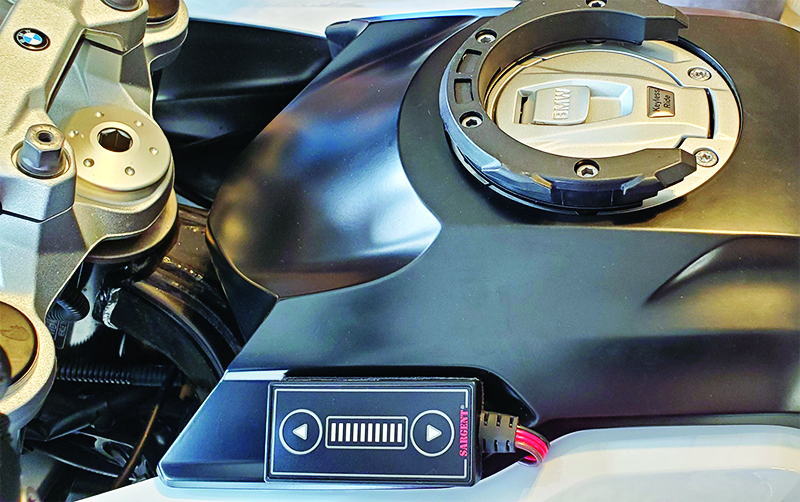 Given my not-quite-towering 5-foot 7-inch frame and not-so-lengthy 30-inch inseam, I was on the fence between Sargent's standard 32.1" standard seat height and 31.5" low version. (Lowered suspension is a whole different animal, especially for adventure bikes where ground clearance is important.) As Todd explained, high quality foam has everything to do with how a motorcycle seat treats your backside, and when you compare a standard height seat with a low seat, "the difference is all foam." 
I wanted to test the difference by the soles of my boots and the seat of my pants, and Sargent kindly provided standard and low versions for evaluation. I already put several hundred miles on BMW's standard seat and about 1,000 miles on BMW's low seat, and both had my backside sore within an hour and aching after a long day. BMW's low seat in particular combines a reduction in foam with an odd shape that proved really uncomfortable. 
The comfort advantage of Sargent's standard height seat over either BMW seat was apparent even before my bike left the garage. The Sargent is both plush and supportive. Like the stock seat, my heels are off the ground at a stop, although the shape of the Sargent seat puts my feet a bit closer to terra firma than the BMW seat of the same height. From the first ride and during hundreds more miles on a mix of paved and unpaved surfaces, this seat has delivered a major upgrade in comfort. My logbook has few notes on Sargent's standard height seat because I haven't had any gripes. The CarbonFX upholstery looks and feels great, and it doesn't become slippery when riding in wet conditions like some upholstery does.
Sargent's low version drops seat height 0.6" (from 32.1" down to 31.5"). This is not as low as the 31.1" height of BMW low seat. The Sargent low seat's support and shape provide a substantial improvement in backside comfort over the BMW low seat. With a few hundred miles behind me, the low Sargent even proved more comfortable than the standard height BMW seat, owing to better quality foam and seat shape. A day of back-to-back comparison runs, with both brands and standard and low seats, reinforced Todd's points that high quality foam is the foundation of comfort in a motorcycle seat, and removing foam weakens that foundation.  
Here's something else worth noting: a low seat puts your feet closer to the ground by putting all of you closer to the ground. The handlebars, foot pegs and windscreen do not change location. That means your ergonomic relationship to the bike changes with a low seat. There's a slightly higher reach to the bars, a bit more bend in your knees and a touch more wind protection as you sit lower. 
So, what's the "bottom" line? Sargent's World Sport Performance Plus seat delivers a major improvement in comfort from BMW's stock seat—more so with Sargent's standard height version and its full measure of Super Cell Atomic Foam. The option for integrated heat adds another level of comfort that BMW doesn't offer from the factory. That rechargeable flashlight is rather handy, too. Unless you are really inseam-challenged, go with the standard height version. Your backside will thank you.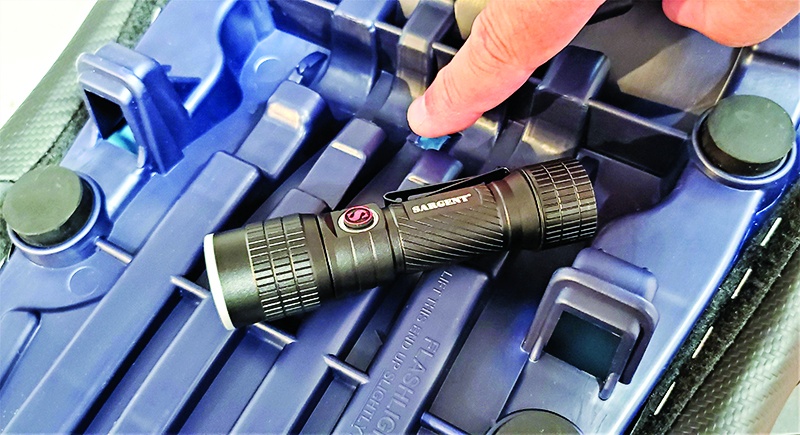 Sargent World Sport Performance Plus seats for BMW F 750 / 850 GS and GS Adventure start at $499.95.
www.sargentcycle.com
800-749-7328 (Toll Free US/Canada)
The post Sargent World Sport Performance Plus Seat | Gear Review first appeared on Rider Magazine.